Theatrical release date (JP)
2011.07.14
Original Title
へルター・スケルター
Runtime
127 min.
Main Cast
Erika Sawajiri ("CLOSED NOTE" "PACCHIGI!")
Nao Omori ("ICHI THE KILLER" "VIBRATOR")
Shinobu Terajima ("CATERPILLAR" "VIBRATOR")
Kiko Mizuhara ("NORWEGIAN WOOD")
Go Ayano ("GANTZ")
Hirofumi Arai ("THE WHISPERING OF THE GODS")
Anne Suzuki ("HANA AND ALICE")
Susumu Terajima ("DISTANCE" "SONATINE")
Yosuke Kubozuka ("PING PONG" "GO")
Mieko Harada ("RAN")
Kaori Momoi ("MEMOIRS OF A GEISHA")

Staff
Director: Mika Ninagawa
Screenwriter: Arisa Kaneko
Producer: Mitsuru Uda
Producer: Morio Amaki
Director of Photography: Daisuke Soma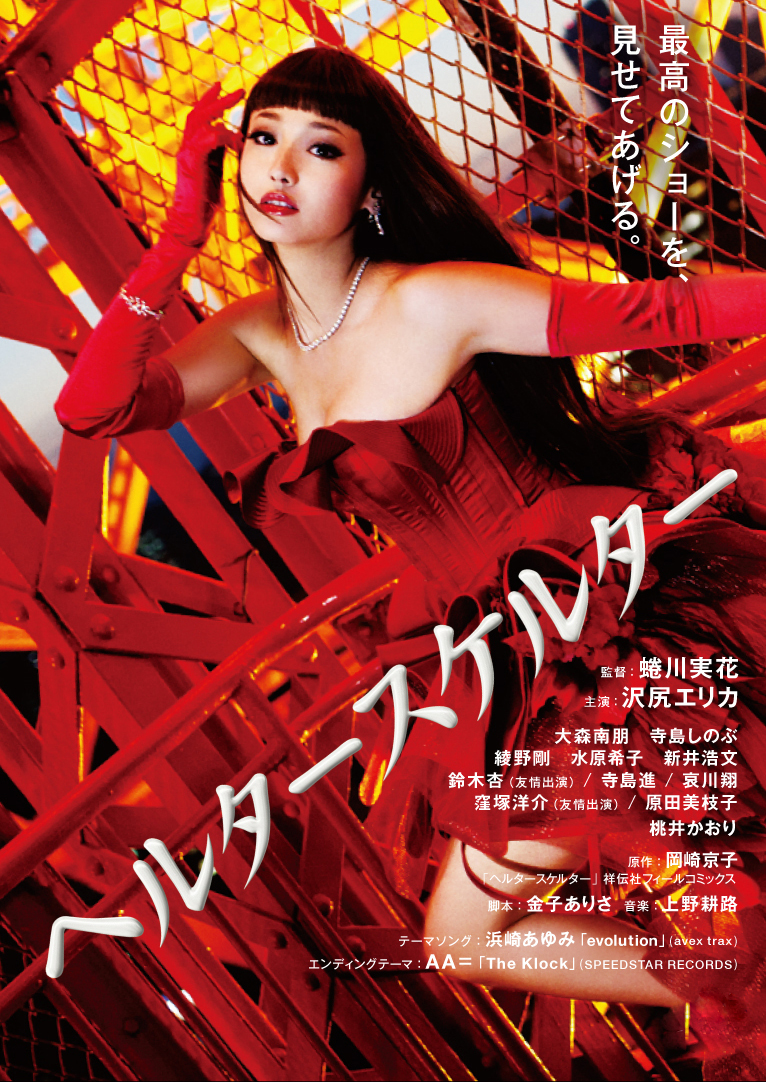 STORY
I'LL SHOW YOU WHAT YOU WANNA SEE

The film will chronicle the short life of Lilico, Tokyo's latest top model/actress, and her extreme ups and downs. She suddenly appears right in the front of the public from nowhere, and becomes a sensation. For her, everything is possible and the sky is the limit.
But she has one secret: she is a creation of countless full-body plastic surgeries, and her whole body, except for her bones, eyeballs, mails, hair, ears and private parts, are all surgically made-up.
s her doctor and her clinic get investigated for a possible infraction of pharmaceutical law, one detective starts to approach Lilico to find out who she really is. At the same time, her body begins to collapse as the surgeries go a little too far...
Exposed to adoration, envy, suspicion, and certain death, Lilico braves Tokyo's savage showbiz world all by her own...