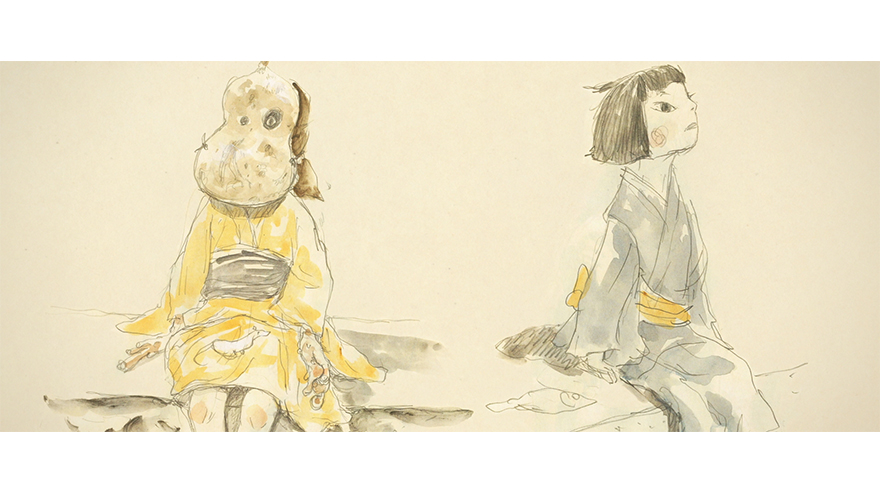 DIRECTOR MASAAKI YUASA'S NEW FILM "INU-OH"
TO JOIN WORK IN PORGRESS AT ANNECY 2020
REVEALING THE LATEST ARTWORK DRAFTS & KEY STAFF MEMBERS
Tokyo, June 15, 2020: Japanese production company Science SARU INC., along with its production and distribution partner Asmik Ace, Inc., today announced "INU-OH", a new film by director Masaaki Yuasa, has been officially selected and joins as part of the Work in Progress Features program at the Annecy International Animated Film Festival which is to be held online from June 15th to 30th, 2020.
In the presentation video of "INU-OH", to be exhibited exclusively on the Annecy 2020 online platform, Director Masaaki Yuasa explains the background of portraying the all-but-unknown Noh star performer while showing parts of the animation test and graphic elements in progress, and the presentation also unveils the drawings of the characters (below) done by Taiyo Matsumoto, responsible for the film's character creation.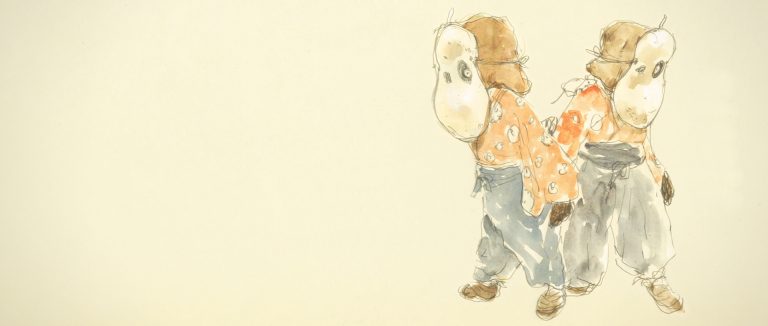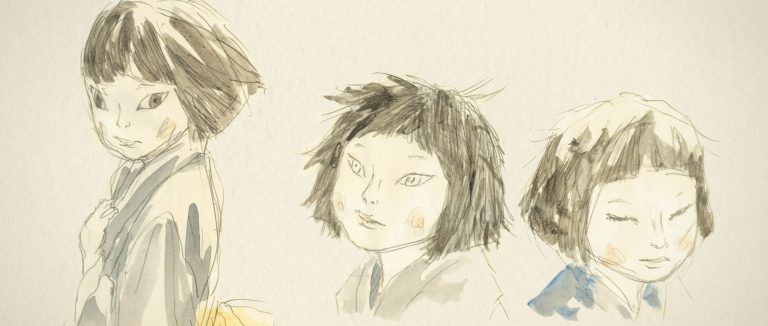 Director Yuasa also mentions the two main characters in the presentation video: "Although Inu-oh was born in adverse circumstances, he is tremendously cheerful and makes decisions by himself about his way to live. As for Tomona, a blind biwa player, he recognizes his surroundings from the sounds he hears. He befriends Inu-oh who is bright and joyful despite his horrible environment, and they start performing together." Regarding the character creation, though the animated feature is set in a certain period, Director Yuasa is trying to adopt the elegant feel unique to Taiyo Matsumoto. Showing some clips, Director Yuasa explains the tests on portraying how Tomona's images become visible one after another, starting from sounds made in complete darkness. He makes further reference to the description of the two main characters saying "Although Noh is traditional and imposing art to us in the modern world, but back then it was entertainment for the general public. Inu-oh and Tomona are a sudden worldwide sensation and modern pop idols that rise to stardom in an ancient era, like punk and hard rock that were suddenly a part of our culture."
His interview also extends to the theme and message of the film: "People might not feel rewarded or acknowledged by society, even though they're strong and talented. But one's accomplishments will be noticed by someone somewhere, and they'll be passed on and remembered." In this sense, the story of Inu-oh and Tomona could be very powerful, and Director Yuasa says "I'm confident that it's going to be good."
Furthermore, in addition to Director Masaaki Yuasa, Character Creator Taiyo Matsumoto, and Scriptwriter Akiko Nogi, the other main staff members have also been disclosed. Character Design and Chief Animation Director Nobutake Ito, who teamed up with Director Yuasa with "Ping Pong the Animation" and many other works, Production Designer Hideki Nakamura, who participated in "Cat Soup", Key Animator Norio Matsumoto, who worked on "Keep Your Hands Off Eizouken!", and other creators who have supported Director Yuasa's works.
Don't miss the animation that will express Noh as a musical in an unprecedented way. "INU-OH" is to be theatrically released in Japan in 2021.
ANNECY 2020 ONLINE FESTIVAL -Work in Progress- "INU-OH"
https://www.annecy.org/programme/index:film-20208201
LOGLINE:
The animated feature "INU-OH" is a musical animation about Inu-Oh, a real-life Sarugaku Noh performer and playwright who enjoyed great success in 14th-century Japan. However, he is all but unknown nowadays because very few documents about his life have survived the times. Now, around 600 years later, "INU-OH" full of music and dance sequences portrays a tale of friendship between the legendary Inu-Oh who vanished from history and a Biwa player he befriended.
SYNOPSIS:
Inu-Oh was born with unique physical characteristics, and the adults cover every inch of his body with garments and make him wear a mask on his face. One day, he meets a boy named Tomona, a blind biwa player. Inu-Oh tells him, "Write a biwa song about me". Tomona makes a song about Inu-Oh's tangled fate and starts performing it with biwa.
Inu-Oh and Tomona become business partners for their survival in society and develop an inseverable friendship. Helping each other unlock their talents, they produce one hit after another and climb the ladder to stardom. And Inu-Oh, who comes to mesmerize his audiences on stage, frees parts of his body one by one and achieves unequaled beauty.
Why is Tomona blind?
Why was Inu-Oh born with unique physical characteristics?
It is a story about the friendship of Inu-Oh and Tomona, who dance and sing to get to the truth and break each other's curse.
KEY CREDITS
Director  : Masaaki Yuasa
Screenplay : Akiko Nogi
Character Creation : Taiyo Matsumoto
Based on the novel by : Hideo Furukawa "Heike Monogatari Inu-Oh no Maki" (aka. The Tale of the Heike, Inu-Oh's Episode) Published by Kawade Shobo Shinsha Publishers
Character Design & Chief Animation Director : Nobutake Ito
Production Designer : Hideki Nakamura
Key Animator : Norio Matsumoto
Produced and Distributed by : Asmik Ace, Inc.
Animation Production : Science SARU
ABOUT DIRECTOR: MASAAKI YUASA
An animated feature director. Debuted in 2004 with "Mind Game". Won Grand Prize at the Animation Division of the 8th Japan Media Arts Festival, Ofuji Noburo Award at the 59th Mainichi Film Awards, as well as Best Film, Best Director, Best Script Awards and a Special Award for its Visual Accomplishment at the 2005 Fantasia International Film Festival (Montreal). The animated feature "Lu over the Wall" won Cristal du long metrage; a prize equivalent to gold at the 2017 Annecy International Animated Film Festival. The animated feature "Ride Your Wave" won the Golden Goblet Award for Best Animation Film at the 22nd Shanghai International Film Festival and the Award for Best Animated Feature at the 52nd Sitges – International Fantastic Film Festival of Catalonia. Other representative works include "Keep Your Hands Off Eizouken!", "Ping Pong the Animation", "The Night Is Short, Walk on Girl", and "DEVILMAN crybaby".
ABOUT CHARACTER CREATION: TAIYO MATSUMOTO
A manga (comic) creator. Debuted in 1987. Representative works include "Hana Otoko (aka. A Boy Meet a Papa and Baseball)", "Tekkonkinkreet (aka. Black & White)", "Ping Pong", "GoGo Monster", "No.5", "Takemitsuzamurai", "Sunny", and "Cats of the Louvre (aka. Les Chats du Louvre)" (all published by Shogakukan). Won the 2008 Eisner Award with "Tekkonkinkreet (aka. Black & White)", Grand Prize at the 15th Tezuka Osamu Cultural Prize and Grand Prize at the Animation Division of the 11th Japan Media Arts Festival with "Takemitsuzamurai", as well as the 61st Shogakukan Manga Award (General Category) and Grand Prize at Manga awards of the 20th Japan Media Arts Festival with "Sunny". Started the new series "Tokyo Higoro" (Big Comic Original/Shogakukan) in 2019, and "Mukashi no Hanashi Hani Akiraka nari" (Big Comic Superior/Shogakukan) on May 8, 2020.
ABOUT SCREENPLAY: AKIKO NOGI
A scriptwriter. Won the 22nd Fuji TV Young Scenario Awards with "Sayonara, Robinson Kuruso" in 2010 and made a debut with that script. Won the 7th Ichikawa Shinichi Screenplay prize with the original script "Unnatural", and the 37th Kuniko Mukoda Award with "Weakest Beast". Other representative works include the dramas "Sleepeeer Hit!" and "Nigeru wa haji daga, yaku ni tatsu", as well as the live action feature "I Am a Hero". The TV drama "MIU404" and the live action feature "The Voice of Sin" are to be released in 2020.
COPYRIGHT
©"INU-OH" Film Partners