Theatrical release date (JP)
2020.01.24
Original Title
さよならまでの30分
Runtime
114min.
Format
Japanese
Genres
Drama, Music, Love Romance, Fantasy
Main Cast
Mackenyu Arata 新田真剣佑 ("Chihayafuru" Part1-3, "12 Suicidal Teens", "Over Drive")
Takumi Kitamura 北村匠海 ("Let Me Eat Your Pancreas", "12 Suicidal Teens")

Staff
Director: Kentaro Hagiwara 萩原健太郎 ("Tokyo Ghoul", "Spectacled Tiger")
Writer:Satomi Oshima 大島里美 ("The 100th Love with You", "One Liter of Tears" TV , "Nagi's Long Vacation")

Copyright©
Ⓒ2020 "Our 30-Minute Sessions" Film Partners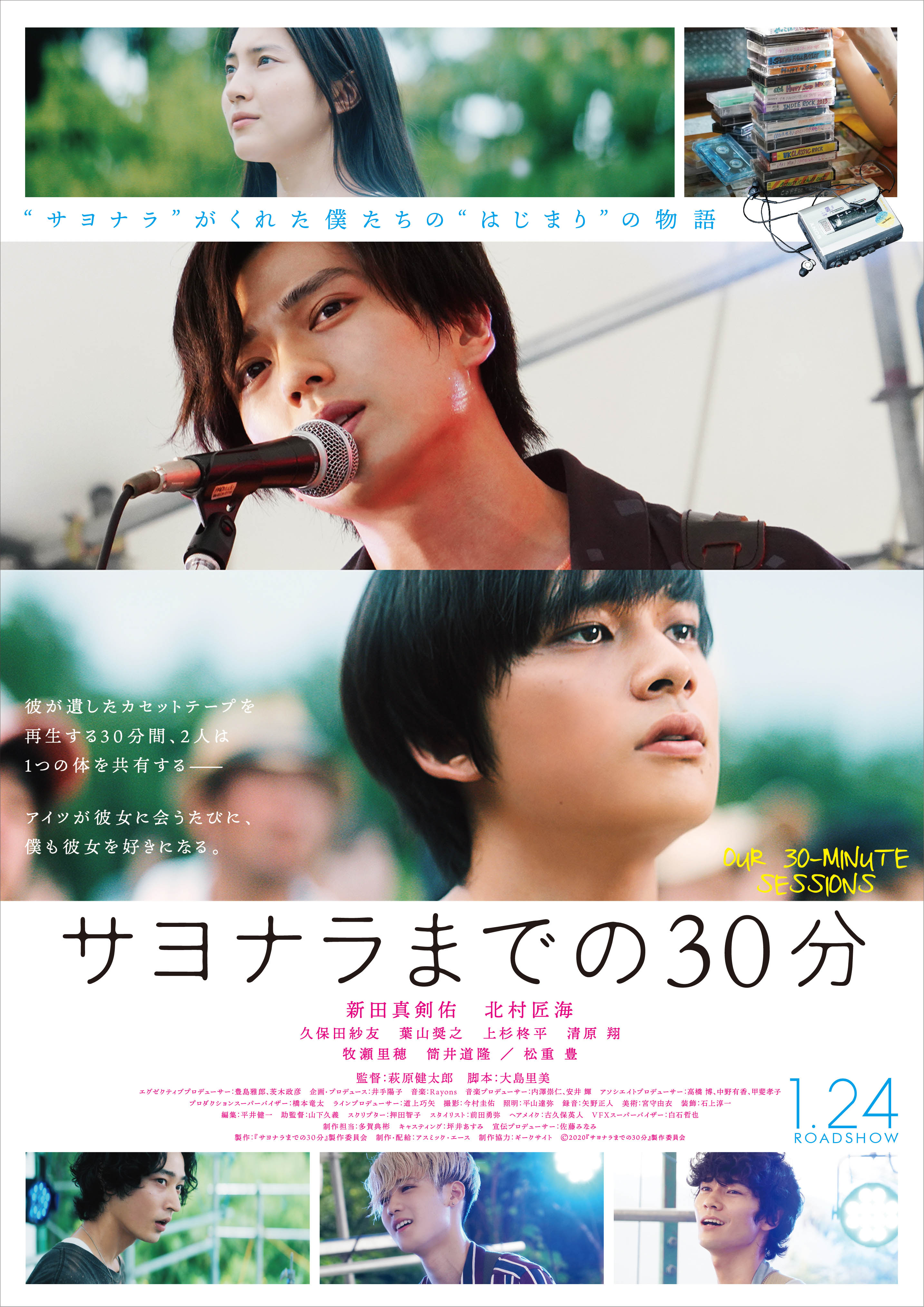 STORY
An original story about FRIENDSHIP x LOVE ROMANCE x MUSIC
by the creators from "The 100th Love with You".

A negative university student & a cheerful musician who passed away.
A cassette tape connects their destinies which are never meant to cross each other.

The music band 'ECHOLL' dissolves before its major debut. One year later, a university student Sota appears suddenly, begging the reunion for the band's members, Yamaken, Shigeta Mori and Kana. In fact, Sota's inside is Aki who was the band's vocal and died a year ago. They can switch each other for only 30 minutes when Aki's cassette tape is being played since Sota picked up it by chance. Thus their weird "body-sharing" life begins ever since.
Sota is unsocialized and likes to be alone. On the other hand, Aki is positive, and his motto is 'No doors that I can't open'. Through "body-sharing" life, Sota gradually thinks that performing the music with band members is more fun than alone and opens his mind. But Aki's girlfriend Kana doesn't rejoin 'ECHOLL' yet. To let her rejoin the band, Sota and Aki make a plan to create the best song for her. At the same time something happens to the cassette tape, which makes their 30-minute sessions shorter...