Runtime
47 min.
Main Cast
YO OIZUMI
EIKO KOIKE
TOSHIO KAKEI
Staff
ART DIRECTOR NAOYA TANAKA CINEMATOGRAPHY BY HISAO SHIRAI KATSUYOSHI KISHI FILM EDITOR TAKESHI SEYAMA
SOUND DESIGNER MASAFUMI MIMA SPECIAL EFFECTS BY SHIZUO KURAHASHI MUSIC BY TOSHIYUKI HONDA
THEME SONG "JITENSHA SHOKA" PERFORMED BY KIYOSHIRO IMAWANO BASED ON THE COMIC "NASU" BY IOU KURODA
EXECUTIVE PRODUCER YASUSHI SHIINA PRODUCED BY MASAO MARUYAMA WRITTEN AND DIRECTED BY KITARO KOSAKA
Credit
ASMIK ACE VAP MAD HOUSE TOKYU RECREATION NTV AND TOKUMA SHOTEN PUBLISHING PRESENT
A MAD HOUSE PRODUCTION
Copyright©
© 2003 Nasu Film Partners. All Rights Reserved.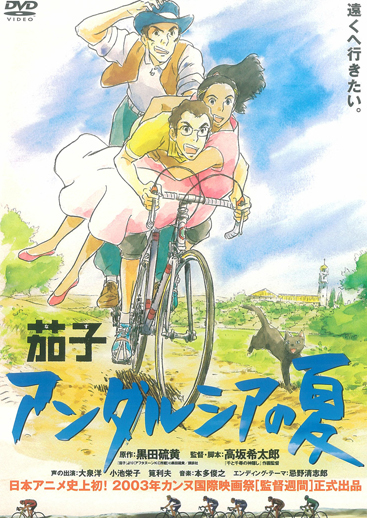 STORY
"Here is your mission of today: win the race! "

It is the hottest day of the summer in Andalusia, and Pepe is racing his bike in today's stage of Vuelta a Espana, Spain's biggest bicycle race. He is not really the best racer in his team, and is always supposed to help his teammate as a spoiler. During the race, he happens to hear his coach and sponsor discussing firing him. He doesn't find this amusing, but tries to just concentrate on the race and support his team.
When the race gets in the middle phase, the racers come close to a small village. It is where Pepe was born. Some of the people of the village feel Pepe has left his hometown, but for many others Pepe's success feels like their own dreams coming true. On this very day, in the church of the village, his brother Angel is getting married with local girl Carmen. She used to be Pepe's girlfriend.
All of a sudden, a small accident changes the whole race, and Pepe finds himself most close to the victory ever in his carrier. The coach tells him to win the race, and Pepe starts to try what he has never tried before. In the last 1 kilometer, a tsunami of the top racers rushes to swallow him. With all the thoughts he bears in mind, Pepe desperately pedals his bike, for what could be the chance of a lifetime...