2018.02.03
Original Title
羊の木
Main Cast
RYO NISHIKIDO
FUMINO KIMURA
KAZUKI KITAMURA
YUUKA
MIKAKO ICHIKAWA
SHINGO MIZUSAWA
MIN TANAKA
RYUHEI MATSUDA

Staff
DIRECTOR:DAIHACHI YOSHIDA
WRITTEN BY: MASAHITO KAGAWA
BASED ON THE MANGA "THE TREE OF SHEEP"
by TATSUHIKO YAMAGAMI MIKIO IGARASHI Published by KODANSHA LTD.
EXECUTIVE PRODUCER:MASAO TESHIMA, IPPEI FUKUDA
PRODUCER:YOKO IDE
ASSOCIATE PRODUCER:ASAMI AOMURA, RYUTA HASHIMOTO
CINEMATOGRAPHER:AKIKO ASHIZAWA (J.S.C)

Credit
PRODUCTION COMMITTEE:
ASMIC ACE / TV TOKYO / J STORM / SUMITOMO CORPORATION /
SONY MUSIC ENTERTAINMENT / ASAHI SHINBUN COMPANY /
GEEK PICTURES / KDDI / KODANSHA PUBLISHING /
GYAO! / TELEVISION OSAKA / NIPPON BROADCASTING

AN ASMIK ACE PRODUCTION
CO-PRODUCED BY geek sight, inc.
Copyright©
©2018 "The Tree of Sheep" PARTNERS © Tatsuhiko Yamagami, Mikio Igarashi / KODANSHA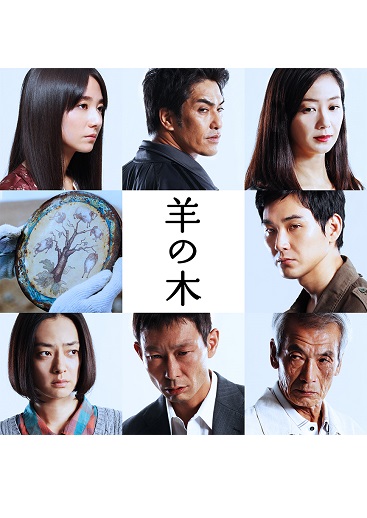 STORY
A government-sponsored program brings 6 strangers to Uobuka, a small town by the sea.
Tsukisue is the pleasant and efficient city official who is in charge of the program.
As Tsukisue learns the shocking truth, a body is discovered...
Director Daihachi Yoshida and his all-star cast find the heart in the characters that face an extreme situation in this story full of hope and mystery.

Six strangers, 4 men & 2 women, arrive in Uobuka, a small, shabby harbor town. Tsukisue is the unflappable, nonchalant city official who is assigned to be in charge of "acclimating" the 6 strangers into this town.
They are part of a secret government program to release convicted felons back into society. Their "past" has not been revealed to Tsukisue or the townspeople.

Fukumoto is a timid, quiet, barber's apprentice.
Ohta is the sexy, approachable caregiver.
Kurimoto is the awkward but methodical janitor.
The close-mouthed, scarred launderer, Ohno.
Sugiyama is an intimidating fishing boat operator.
And Miyakoshi is a carefree, inquisitive deliveryman.

Tsukisue soon learns the shocking truth; they are all convicted murderers.
The six try to blend in with the town while carrying the burden of their sins.
The discovery of a body in the harbor starts to bring Tsukisue, his high school classmate Aya, & the people of this small town to intersect in an emotional climax.

Six strangers with a past. To trust them? Or to suspect them?