Theatrical release date (JP)
2018.11.03
Original Title
ラブXドック
Runtime
114 min.
Genres
Romance, Comedy
Main Cast
Yo Yoshida,
Shuhei Nomura (Sakurada Reset, Chihayafuru),
Ryoko Hirosue (Poppoya, Wasabi, Key of Life),
Hiroshi Tamaki (Nodame Cantabile, The Assassins/铜雀台)

Staff
Director Osamu Suzuki (Handsome Suit, SMAP×SMAP)

Copyright©
©2018 "Love x Doc" Film Partners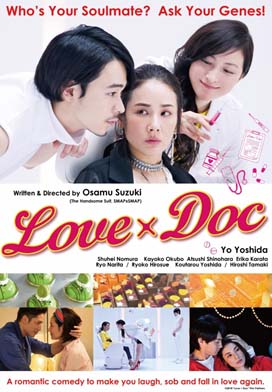 STORY
Romance is never a waste!

You want love. You want romance.
But no more failed relationships.
This is the clinic for you.

A certain town has a clinic that specializes in romance, called the LOVE DOC. Its significance is best understood by the kinds of people who fall in love easily.
So one day, a popular pastry chef named Asuka Goda drops by. She's on the way to a successful life, but her vulnerability to love ends up costing her job and best friend.
So the Love Doc director, Reiko Fuyuki, offers Asuka a special drug developed from genetic information and blood analysis. Once injected, she'll never fall into a harmful romance again. Call it a vaccine against bad relationships. But can it put her on the "right" romantic track?