Original Title
君と100回目の恋
Runtime
116min
Main Cast
miwa, Kentaro Sakaguchi
Ryo Ryusei, Erina Mano, Yuuki Izumisawa, Seiichi Tanabe
Staff
Director : Sho Tsukikawa

Credit
Asmik Ace Inc.
Tristone Entertainment Inc.
Sony Music Records Inc.
Kyodo Tokyo Inc.
Shueisha Inc.
Copyright©
©2017 "The 100th Love with You" Film Partners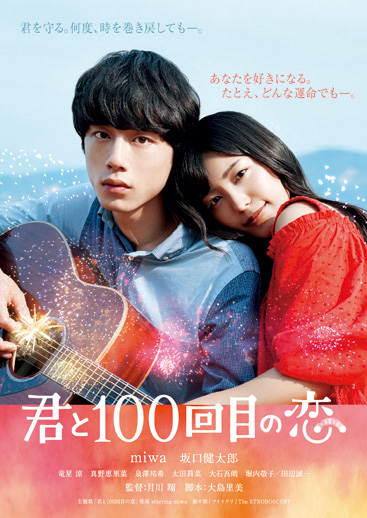 STORY
A heartfelt romantic time-travel story of a man who tried to sacrifice his life 100 times
to change the fate of the only girl he has ever loved,
and the woman who took fate into her own hands to protect his only future.
"I'll tell you my secret. I can turn back time."

Aoi, a university student, is involved in a fatal accident on her way home from her band's unsuccessful performance. The date is July 31, which is also her birthday. But when she comes to, she finds herself in the university's lecture hall. The date is July 25, a week before the accident. Aoi is shaken, but her friend Riku tells her that he had turned back time to change her fate. Finally able to tell each other how they really feel, they spend some happy days together, but a serious secret was hidden behind Riku's efforts to travel back in time to save Aoi.